When I got sober almost 9 years ago, I had no idea what was coming next. My initial goal was to stop using cocaine and in order to do so I knew I also had to quit drinking. What I didn't realize is that I was answering a much bigger call.
My sobriety hasn't just been a call to clean up my act, but also a call to WAKE UP.
After the initial phase of learning how to string days together without drinking and using, I began to start having more clarity. After the fog lifted and I finished detoxing all the junk out of my body, I started having questions along the lines of, "Who am I and what do I really want, believe in, stand for and enjoy?"
These were all things I had never really given much thought to because, let's be honest, who has time for that when you are busy checking out of reality on the regular like I was?
When I quit drinking, life as I knew it started massively shifting around in every area and I stepped into a role of making conscious decisions about my life choices, which was completely new to me.
All of a sudden I was faced with myself. The autopilot decisions to party, drink and use had come to a screeching halt and I could actually hear myself thinking about much bigger concepts than where I was going to score my next gram bag.
When you first get sober, you think it's all about the sobriety – and, at first, it is. But then you realize it's actually more about YOU. It's about waking up to the real you and letting go of the professional escape artist you so cleverly and subconsciously had become.
You see, when you start living a life without alcohol and drugs, you step into a whole new dimension of living. You begin to navigate life in new ways and you begin to experience an awakening of sorts.
As you step into sobriety, you start getting clear on…
What you need.
What you desire.
How to actually take care of yourself.
How to find peace inside yourself.
What it's like to eat and sleep in healthier ways.
How to have fun and what your new version of this looks like.
How clearly your intuition speaks to you and has all along, even when you used to drown it out.
What it feels like to wake up without a hangover, refreshed and full of energy instead of shame.
Things that interest you like – call me crazy but – those things called "hobbies."
What your faith, beliefs and spirituality mean to you.
How to set boundaries in your life that keep you on the sober path.
What it's like to actually FEEL your emotions and feelings – the good ones and the bad ones.
Sobriety makes you question everything you thought you knew. It makes you hyper-aware of your thoughts, surroundings and the dynamics of your relationships. You begin to wonder why you are the way you are and the process of connecting all the dots can be an intricate, mind blowing experience.
Sobriety wakes you up. It rattles you to your core. It helps you understand your patterns of thinking and BEing so that you can create new habits for living life on new terms. It creates a space for you to write a new story where you get to choose what comes next.
Sobriety teaches us about stepping out and taking a leap regardless of our fears. It teaches us about what it's like to experience a personal revolution. It demonstrates our ability to transform – to change. And suddenly, the risk of remaining the same becomes so much more painful than the risk it takes to find your full bloom.
If you are experiencing your wake up call to get or stay sober, you don't have to do it alone.
In fact, a week ago over 250 people participated in the #1WeekNoDrink Challenge. It was such an amazing experience for all involved. We are so thankful for everyone who participated.
After the incredible momentum so many people found inside the challenge, we wanted to provide the next level of support for anyone continuing in their recovery or working to stay the course.
We surveyed our group and it was a rather unanimous vote that the next step would be to offer bi-monthly classes and a private support group to our community.
You spoke and we listened…
We have been working hard the past week to put together a very special offering, not only to the people who participated in the challenge, but to anyone who is trying to get sober or stay sober.
Announcing: BLOOM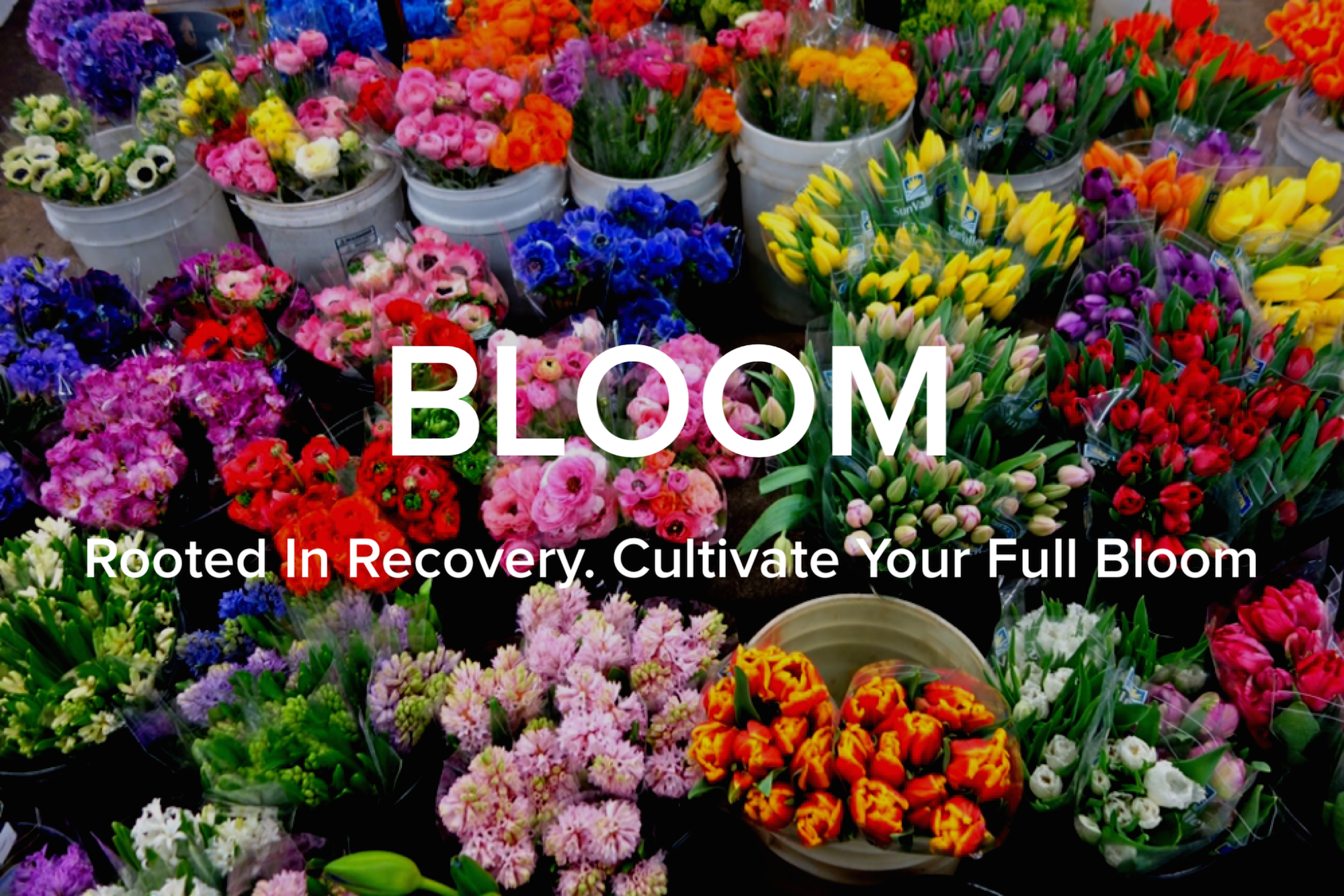 A virtual coaching program offering online classes and community developed by Carly Benson and Kelly Fitzgerald for those who are seeking an alcohol-free lifestyle, or are currently in recovery and looking to deepen their practices and find connection in a safe, compassionate and private space.
Our Mission
As we have navigated our own recovery from alcohol and drug misuse, we understand the changing landscape of the recovery world. Society is inundated with addiction stigma, so much so that many people don't feel comfortable asking for help.
We seek to create a community where people feel comfortable exploring sobriety, asking questions they may normally be afraid to ask. It will be a place to find recovery practices and tools that work for them while providing the ability to do it all in a safe and encouraging environment.
Our goal is to create a space for you to engage each month that leaves you feeling more content and connected as you learn new parts about yourself, while also analyzing your relationship to drugs and alcohol. We ultimately hope you find freedom from harmful substances, a community of likeminded people and a place to find the support you need.
What's included
Bi-monthly live classes with a different topic each class. Topics will be recovery-themed and may come with handouts, exercises or quizzes.
Access to Carly & Kelly inside the private group where we will be actively engaged and available to support you.
Monthly meditations & mindfulness exercises to help you practice living more intentionally and mindfully.
A private group to grow and encourage a community honoring confidentiality and privacy.
Weekly suggestions to include articles, videos or book recommendations to spark conversation and foster friendships inside the community.
How Much Is It?
The cost of the monthly membership is $67/month.
Why $67/month?  We want you invested in your learning. We've seen $19/month programs and simply don't believe that price encourages active engagement. Psychologically people won't buy into doing the work unless they are more vested.
The creators of low priced programs A) won't invest as much of their time into it to create an impressionable experience like we plan on doing and B) they bank on the fact that you'll just keep paying whether you are engaged or not because $19/month is no big deal.
We wanted to create something you'll actually use and commit to doing the work. We want this program to be an integral part of your commitment to yourself, your recovery and to growing into the best version of yourself.
We are asking you to invest in yourself and believe there is no better investment you can make.
We created this program based on the things we wished we had as we were building out our own recovery and based on the feedback of people who we've worked with in their recovery who want more community, accountability and self-development.
Topics we'll be covering in our initial LIVE classes
5/1/17 – Why Sober Is The New Cool
5/15/17 – What To Expect In Your First 30 Days Of Sobriety
6/5/17 – Dropping The Label: Discussing The Term 'Alcoholic'
6/19/17 – Quit Drinking: Finding Your Why
We'll also be including bonus content and interactions to add more value. We believe in over-delivering, so you can expect…
Extra Facebook live sessions with us here and there, weekly check ins, access to us in the group for ongoing support and email support if need be.
If this sounds like your cup of tea, we'd love to have you…

The Bloom Club works out to about $2.20/day, which is less than a Unicorn Frap at Starbucks! Bloom is like a monthly gym membership for your sober soul and while you might not be drinking unicorns, you will be becoming one.
Join TODAY and you'll be added into the private group immediately and we'll be kicking off our first  LIVE Training on Monday, May 1st at 5pm PST/8pm EST.  Don't miss out!
If you are finally ready to transform and start taking more consistent action to support your recovery, THIS is the group for you. This club is the ticket to mastering your sobriety!
And don't worry, for those with commitment issues…
If you decide this isn't your jam, you can cancel at anytime and won't be charged for the month following your cancellation. You'll have access to all the archived classes and private group through your billing cycle, which runs 30 days from your date of sign up.
When you join the club, you don't just join a group, you become FAMILY.
We take your commitment seriously and want you to know we are equally committed to serving you. We know that when one person commits to his or her mastery, that energy can be contagious. We also know that by coming together we are stronger!
Want In? We'd LOVE to have you! Be sure to complete your payment by 4/30 to get IN on the first live training on 5/1!

We can't wait to see you inside the group! If you think something like this could serve someone you know, please pass it along to them, share it and help us build a thriving community of people who are a stand for each other in recovery.