I've been on a bit of a sabbatical, so I apologize you have not heard from me as much lately.  This is a longer post in part because I haven't been writing as often and need to get back into the groove, but more so because I have so many wonderful things to share. If you have time to read in entirety, that's fantastic. I can promise you will gather some great insights. If not, no biggie – feel free to skim the bolded nuggets and pictures.  :)
After spending 10 days in Europe, the return home has been nothing short of bittersweet. This is where the adventure, itself, ends, but the memories and lessons will carry on forever.
We travel for a number of reasons. To escape the responsibilities we have piled high on ourselves, to gain new perspective, for rest & relaxation, or maybe to fulfill parts of our ever-growing bucket list.  What ever the reason may be, it's important we take time to reflect after each journey.  In times of nostalgia, we often experience some of our best insights.
12,000 sky miles and close to 40 miles in my Supra sneaks later, here are…
13 Miracles Uncovered While Traveling Abroad
1.  People who work with passion inadvertently build things into eternity.
It became very evident as I moved through both Scotland and Italy that the way people work there is different, both now and in the past.
The level of love and passion you could see in each of the places we visited was astounding. In Scotland, there were castles and buildings made of stone from the 1800's that were lavish and stood the test of time.
What continued to catch my eye were the churches. It is hard for me to put into words the amount of intricacy, meticulousness and magnificence found within the walls of these humongous churches. Gold plated ceilings, incredible paintings of Jesus, marble, stone, and granite – the craftsmanship was something I've never seen before.
As I continued to pick my jaw up from the floor, I began to realize that there is absolutely no way these places were built without the loving hand of God.  Not only that, the amount of time and thought that went into these churches was immense.  That type of love and passion for work is something that really resonated with me.
2.  Digital detox is good for the soul.
This may have been one of my favorite lessons.  I did have my phone for pictures, but I was not checking it hardly at all. I didn't have emails pouring in, distracting me from the moment. I was not scrolling through Facebook throughout the day or even concerned with knowing who was doing what.
At first, this was hard to get used to, but after a few days I realized that without my phone – the texts, emails, Facebook, Twitter, Instagram, Snapchat – I was able to give all my attention to the present place and people I was with.  I was only interested in what was right in front of me.
Digital Detox is something I'll be practicing more often in my life stateside for sure. I will be turning my phone off on Sundays, to start, to completely be present in the day.  I encourage you to try it for one day.  Power it down and don't turn it back on until the next day.  I dare you!
3.  Seeing details with a child's eyes makes life so much more interesting.
When we are seeing something or somewhere for the first time, we tend to pay more attention to the details, noticing things that we may normally rush by and miss.
I often felt like a little kid as I raised my arm and pointed, "Look at that, and that…oh my did you see this?"
I couldn't seem to have my camera out fast enough as I wanted to capture all of these amazing sites I was seeing.  I felt just like a little kid again on an adventure in a land unknown.
It was fun and it was interesting to see how my eyes viewed things differently than I normally do.
Going forward I will try to pay closer attention to detail and to look at things through the eyes of my inner child just as I did on this trip.
4.  Unfortunately, the less fortunate are everywhere.
As we wandered the streets of Scotland and Italy, it became apparent to me that homeless people and the poor were among us. This is a problem that is world wide, not just in America, Africa and South America where we typically here about less fortunate people.  It is everywhere.
The faces of 4 of these homeless women have been burned in to my mind. When it comes to giving "bums" money, I have a hard time with this. But as I began to really take a closer look, I realized they are not just bums.  They are people.  They were truly suffering.  All 4 of these women had tears in their eyes, they were not actively begging, they were sitting and saying prayers. This was so touching to me because while they had nowhere to go, no food and no money, they still turned to God to meet their needs. I felt called to give each of them money solely based on this.
Not only were the less fortunate present, but I also encountered the harsh reality of drug addiction that was ever present in Rome.  While walking to find a restaurant, we were stopped by a man who was 15 months sober from heroin and cocaine. He was working for an organization called Mouvimento Contro la Droga, which means Movement Against Drugs. I ended up signing a petition to help their cause as well as donating money.
We shared our stories briefly and this made me realize that the work I want to do with helping others is viable.  It is needed.  And it is urgent.
5.  The world is so much bigger than we think.
In Scotland, there was a city on top of a city.  Back in the 1800's when the plague swept through and demolished a large part of their population, they had tunnels where people would be sent to live and ultimately die.
After the plague had passed, rather try to rebuild that city, they decided to just build on top of it. So, there are parts of Edinburgh that are actually layered with buildings on top and abandoned tunnels below, which are said to be haunted.
Imagine that?
When we travel, we see how other people live – their culture, food, family life, buildings, transportation, etc.  As I compared and contrasted ways of life, it made me realize that this world is a very big place. There are so many people in different countries, on different continents, living life differently on each.
6.  Friendliness is contagious.
I was greeted and entertained by extremely friendly people who genuinely cared about creating memories for my friends and I. It was very refreshing to see such friendliness everywhere we went.  Not only were people nice, they had a willingness to help when we were lost or looking for something.
The gentleman we rented our apartment from in Scotland spent a good 30 minutes reviewing a map with us, pointing out the best places to sightsee, eat and wander. He took time out of his day to make sure we left Scotland with smiles on our faces.
The hospitality at the bed and breakfast we stayed at in Italy was also something I've never experienced before.  Home cooked meals and family dinners full of good conversations and laughter were nothing short of magical and delicious.
It made me realize that friendliness is contagious. I found myself wanting to be more helpful to others. The impact you can make on someone's day or even life, can boil down to a single moment of your time you give to them. Think about that.
7.  Timelessness is so rare. And so beautiful.
As I stood inside the Coliseum in Rome, I looked around at these monumental ruins and could not help but admire how it was all still there.  Thousands of years later, this handmade amphitheater that was built with much less of the modern conveniences we have today, was still in tact. That is truly remarkable and it's history is such a sight to see. To be able to stand the inside of a place that was built in 70 AD was  an unforgettable experience.
It got me thinking about what I am doing with my time to create something timeless.  It made me that much more motivated to keep putting writing out there that will hopefully become something just as timeless. I can only strive for such beauty.  It's something we all should attempt to do with the lives we live. How will you make your mark? More importantly, how will you leave it?
8.  Prayer is more powerful than I ever realized.
Perhaps the most profound and prolific part of this trip for me was my experience inside San Pietro Church in Vatican City. I knew going in that it would be very spiritual for me, but I had no idea how much so. I am not even Catholic, so for me it was more about the grandness of meaning inside the Basilica (church). Aside from the overwhelming amazement of it all, there was a closeness to God that I've never felt so intensely before in my life.
As we made our way through taking pictures, reading and discussing what we were seeing, we made it through one side. As we came to the other side, we saw an area for confession and prayer.  It was a no brainer that I wanted to pray inside this place.
As I stepped into the pew and got on my hands and knees, IT happened. I began to pray in gratitude for the experience and as the words traveled through my head, tears began to stream down my face.  It was uncontrollable, undeniable and unexplainable. It was beautiful, it was incredibly moving and it is something I will never forget.
The Holy Spirit inside of me was making itself very present and known. They were not tears of sadness – they were tears of joy. It was easily one of the most emotional, spiritual and powerful experiences of my life. If ever there was a doubt of the power of prayer or the Holy Spirit, it was silenced this day.  It made me realize the importance of prayer and the realness of God in our lives.  I'll never be the same because of it.
9.  Commitment to your gifts is what life is about.
As I visited with my dear friend in Italy, I began to notice the commitment it took for him and his family to move there to build on their family land.  They have been working to build out their family legacy – La Collina Villa Verdecchia – an amazing Bed & Breakfast just outside of Rome, in a gorgeous beach town called Santa Marinella.  I stepped one foot on to the property and it became overwhelmingly apparent that I was witnessing real dedication.
I could not help but leave there with an admiration I didn't have before.  It made me want to commit to my craft of writing and sharing what God has done in my life even more so. We are all given gifts whether in the form of a talent or something tangible.
[Tweet ""Your talent is God's gift to you. What you do with it is your gift back to God.""]
10.  What you see when you take the time to actually look will blow your mind.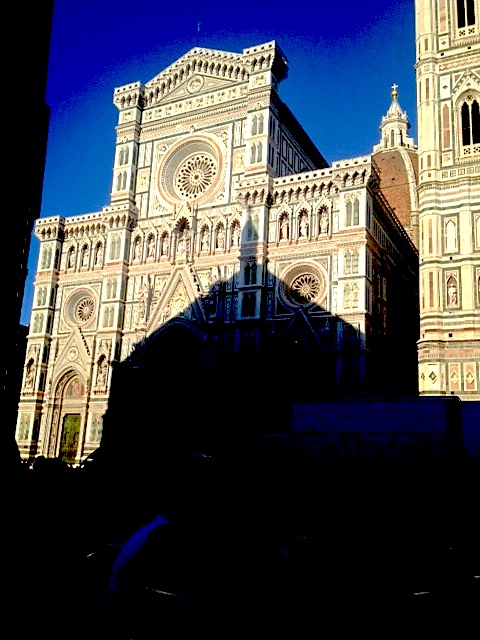 In Santa Marinella, Italy, a quaint beach town just outside of Rome, my friends and I spend the night laying in lounge chairs, talking, listening to music, completely mesmerized by the stars above us.
That night we counted 18 shooting stars. Had we not taken the time to actually look, we would have completely missed out on this profound experience.
There are so many things we miss out on because we are in a hurry or I don't have time to admire nature's beauty.  Had I not stopped to turn around in Florence, I would have missed this shot.
This taught me to start looking around and to actively pay attention to my surroundings.
11.  Relax in beautiful moments. Breathe them in.  Deep.
Sleeping with the windows open is something I rarely ever have done in my life.  Living in Florida, it's pretty hot here all year round. In Italy, I slept with the windows open every night. I got to hear the wind and the breeze, which was fascinating and relaxing.  Instead of paying attention to my thoughts, I was lullabied by the wind.
I actually had to sit down in the Sistine Chapel to take it all in. I could not believe what was before my eyes. To see such a magnificent masterpiece of artwork that has been a legacy for hundreds of years was absolutely breathtaking. I could have been in there staring for hours and still not see it all.
I often had to tell myself to relax on this trip. There was so much sensory overload that it was hard not to continuously be excited. As I caught myself in a moment of true beauty or something that I wanted to capture as a treasured memory, I told myself each time to breathe it in, deep.
It occurred to me on the last day in Italy, as I was paddle boarding in the Mediterranean, that I had been practicing this technique. I caught myself saying it and breathing as the sun was shining on my face.
Because I was able to actually take in these moments, they will be forever engraved on my heart.
12.  Slowing down is something we can all benefit from.
Being abroad with no real responsibilities except the extracurricular activities you have planned coupled with the digital detox I touched on earlier, really forces you to slow down. You sleep in later and move about at your leisure. There isn't much need for time because when you are on vacation you come and go as you please. Although it's hard to slow down sometimes, it truly is so good for your soul.
Americans, in general, are always in a rush.  Rushing to the office, to make money, to get the kids, to make dinner, pick up the dry cleaning, pay bills, and the list goes on. We get so wrapped up in our frantic state of "getting things done," that we tend to forget how important slowing down is both physically and mentally.
In Europe they take 2 hours for lunch, they eat 5-course meals with their family for dinner, they nap in the afternoon (even businesses close for this) and there is no such thing as a "doggy" bag at a restaurant, especially in Italy.  It's customary for you to sit at a meal with your family for as long as it takes for everyone to finish their plate, drink and be merry.  I found this refreshing.
13.  Appreciation for your own lifestyle can only be truly realized when you venture outside of it.
Although it was hard to come back to reality, being away from my home, bed, family, friends and dogs made me appreciate each of them that much more.  It was a dream vacation that I'm truly blessed to have been on, but I realized as I returned home that I, too, live in paradise.
I appreciate the way I make my own coffee. A real cafe Americano.
I appreciate the sunsets from my living room.
I like my alone time and blasting my music from my speakers as loud as I want.
I appreciate having my car to drive anywhere I want instead of having to walk everywhere, especially up these stairs.
It's the little things in our life that we tend to take for granted. I realized that there are so many simple pleasures that I needed to appreciate more.
On that note, I appreciate anyone who read this entire post.  I know it was extremely long. There was no way I could leave any of this out as it has impacted me in a way that I may never be able to put into words.
I walk away from this trip not just as another vacation, not just money spent, not just an experience or memories.  No, what I walk away with is a change of heart, which you cannot put a price on.