Join my inner circle to get weekly doses of inspiration designed to help motivate, enlighten & create transformation in your life.
want more inspiration?
Recommended Reads
I have become a reading machine over the past several years. I guess when you quit partying, you have to find something productive to fill your time with. This will be an ongoing list of books I highly recommend reading because they have helped me immensely. Not only have they given me the gentle nudges (or sometimes shoves) I needed, they have also been instrumental in my growth and learning. Fellow bookworms this is for you:
The Listeners ESV Audio Bible by Max McLean
I try to listen to this every morning.  By listening to the Bible on audio you are able to easily start learning the verses and remembering them similar to what happens when we listen to a song over an over.  I find it to be very calming and the perfect start to my day. This is my favorite version of the audio Bible as I like Max McLeans accent.  It helps me to easily drift into meditation and really grasp the Word.
Click Here To Grab The Listener's Bible-ESV On Audio
Rational Recovery By Jack Trimpey
This book was imperative reading for my sobriety. It teaches you how to recognize that voice (the BEAST) in your head that tells you to partake in your vice. The voice that says: "Oh just one drink" or "I had a bad day so I need to blow off some steam" or "It's happy hour" "I don't want to miss out on anything."  As I read this book I was consistently blown away by how the author, Jack Trimpey, writes as if he was talking a stroll through my head. It is brutally honest.   It cuts to the core and helps you recognize patterns in your thinking that fester your habit. For me, this was an alternative to AA, while others use it as supplemental reading. This book was a complete game changer for me. I attribute much of my success with sobriety to this book, and God, of course.
Click Here To Grab Your Copy Of Rational Recovery: The New Cure for Substance Addiction
Spirit Junkie By Gabrielle Bernstein
Spirit Junkie was such an eye opener for me. I immediately connected with Gabby Bernstein as she has a similar story to mine. She is an internationally known author, speaker and coach who teaches from A Course In Miracles, which I also recommend studying AFTER you have fully read and understand the Bible.
Click Here To Grab Your Copy Of Spirit Junkie: A Radical Road to Self-Love and Miracles
A Million Little Pieces By James Frey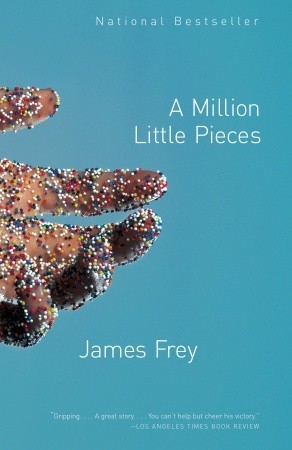 This is a story about a guy who is so far gone he literally does not care about living tomorrow.  He will do any drug he can get his hands on, takes it all to the extreme and is beyond an the classification of alcoholic. The book is about this man's journey through addiction, rehab and reliving his ghosts from the past while meeting people who he doesn't realize are changing his life one meeting at a time. If you or any one you know is struggling with addiction or alcoholism, this is a book that will give you a very deep look into the mind and struggles of an addict/alcoholic. It smacks you in the face with the realness of addiction. You can read the full review HERE. 
Click Here To Grab A Copy Of A Million Little Pieces